2259th Buddha Purnima Ladakh
2259th Buddha Purnima Ladakh is celebrated in Ladakh to honor the birth of Lord Buddha also called as Enlightenment and Mahaparinirvana is known as death anniversary on 4th May at Polo ground. Buddhist day deliberates this day as very auspicious. There were many schools that participated in the celebration by presenting the twelve illuminating activities of Buddha in Leh. 'Bumskor' is the holy Buddhist sutras that are to be seen only in monasteries. For chanting the Buddhist prayer beads there are 108 sutras in string. Buddha was born to disperse the problems, ignorance and sufferings of the people.
The most pilgrimage sites for the Buddhists are Bodh Gaya, Lumbini, Kushinagar and Sarnath as these places are deeply devoted to the life of Gautama Buddha. Each of the word is very nicely described like Bodh Gaya is the place where Gautama Buddha has gained the Enlightenment, Sarnath is the place where Buddha taught the drama, Lumbini is Buddha's birth place and Kushinagar is the death place."
Buddhist devotees visit temples, light candles, and make offerings and pray before the statue of Lord Buddha. The devotees go to temples and pray to Lord Buddha and even light candles. 2259th Buddha Purnima Ladakh is celebrated very nicely and amazingly.
Celebration of 2259th Buddha Purnima Ladakh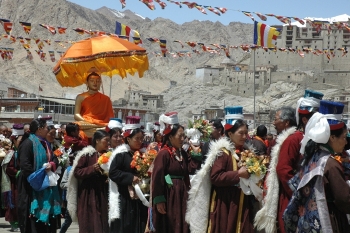 Buddha Purnima Festival Ladakh is celebrated all over the world said by Mr. Tsewang Thinless, President LBA. Buddha Purnima is celebrated all over the world. There are few bad things that are described in the Buddha teachings are selling alcohol and murder. Teachings of the Lord Buddha should be practiced and then implemented in our daily routine life.
For attending the 2259th Buddha Purnima Ladakh celebration various chief guests where invited namely Mr. Tashi Rabgias, well-known scholar, Mr. Chhering Dorjay Lakrook, Jammu and Kashmir Cooperatives Minister, Chaiman, Mr. Rigzin Spalbar, Executive Councilor for Tourism Mr. Mohd Shafi Lassu, Tibetan community CRO and Deputy Commissioner Saugat Biswas. Mr. Tashi Rabgais has shared the twelve Enlightening Deeds of Buddha and also the teachings. If anyone reads Kangyur 108 then it feels like taking teaching practically from Buddha. Buddha teachings are eternal and widespread in nature based on unconditional love, compassion, and self-sacrifice. Buddha has enlightened the greatness of his discovery of the truth. After the birth of the Buddha took seven steps and made an announcement.